Top AudioBooks Narrated By Barnaby Edwards
Narrator Barnaby Edwards, From his debut narration with the Novel 'Cyberman 2' in the year 2009 to his last published Novel 'For Lord And Land: The Bernicia Chronicles Book 8' in the year 2021 , the narrator has narrated 27 novels till now.
As well as narrating many classic works of 'Drama', Barnaby Edwards also narrated 'Audio Theatre' as well as many popular 'Science Fiction & Fantasy' novels such as 'Fall Of Light: The Second Book In The Kharkanas Trilogy'(2016)
Barnaby Edwards narrated Various book on Genres such as Audio Theatre, 'Science Fiction & Fantasy, 'Fantasy, 'Fiction & Literature, 'History, 'Military, 'Wo .
There are so many books narrated by Barnaby Edwards and written by authors like sh Productions, 'Steven Erikson, 'Ian Mortimer, 'Laurence Rees, 'Matthew Harffy, 'Philip Reeve, 'Fri.
If you are wondering about which is the Best novel of Barnaby Edwards then, well its difficult to answer but by looking at the ratings revieved by all the books narrated by the Narrator we have complied the following list.
1. Fall Of Light: The Second Book In The Kharkanas Trilogy -unabridged audiobook (2016)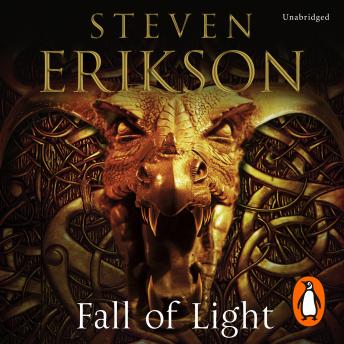 Published on
2016-04-21
, Narrated by 'Barnaby Edwards', Belong to category by 'Science Fiction & Fantasy' and 'Fantasy', This audiobook is
44 h 46 min
long, Price of this audiobook is
$12.5
,
Book SummaryBefore the Malazan Empire, there was a time that set the stage for all those tales yet to be told . . .

The winter is bitter. Civil war threatens Kurald Galain for the warrior Urusander's army has begun its march on the city of Kharkanas. Led by the ruthless Hunn Raal, it intends to cast aside Mother Dark's consort, Draconus, and set Urusander himself on the throne beside the Living Goddess. Those who would stand in the way of the rebels lie scattered and weakened – leaderl...Read more
2. The Outcasts Of Time -unabridged audiobook (2017)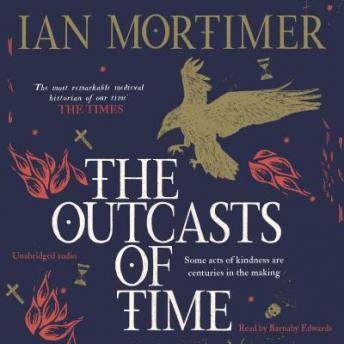 Published on 2017-06-15, Narrated by 'Barnaby Edwards', Belong to category by 'Fiction & Literature' and 'General', This audiobook is 12 h 1 min long, Price of this audiobook is $27 ,
Book Summary'Beautifully written and superbly executed' Times
'A joyous romp around England's dark past' Suzie Feay, Guardian

From the author of the bestselling The Time Traveller's Guide to Restoration Britain, this is a stunningly high-concept historical novel that is both as daring as it is gripping, and perfect for fans of Conn Iggulden, SJ Parris and Kate Mosse.

December 1348: With the country in the grip of t...Read more
3. A Darkling Plain -unabridged audiobook (2017)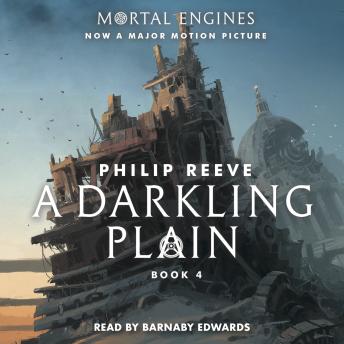 Published on 2017-12-26, Narrated by 'Barnaby Edwards', Belong to category by 'Teen' and 'Sci-fi & Fantasy', This audiobook is 15 h 33 min long, Price of this audiobook is $34.99 ,
Book SummaryThe final book of the thrilling Predator Cities series!

London is a radioactive ruin.

But Tom and Wren discover that the old predator city hides an awesome secret that could bring an end to the war. But as they risk their lives in its dark underbelly, time is running out. Alone and far away, Hester faces a fanatical enemy who possesses the weapons and the will to destroy the entire human race.

The final book in the Predator Cities series, Philip Reeve's A D...Read more
4. Infernal Devices -unabridged audiobook (2017)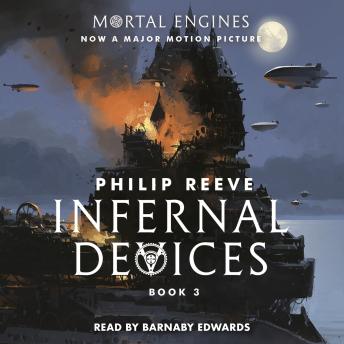 Published on 2017-12-26, Narrated by 'Barnaby Edwards', Belong to category by 'Teen' and 'Sci-fi & Fantasy', This audiobook is 10 h 4 min long, Price of this audiobook is $27.99 ,
Book SummaryThe third thrilling book in the stunning Predator Cities series!

The mighty engines of Anchorage have been rusted and dead for years. The derelict city no longer roams the Ice Wastes, but has settled on the edge of the land that was once America. Tom Natsworthy and Hester Shaw are happy in the safety of a static settlement, but their daughter, Wren, is desperate for adventure. When a dangerously charming submarine pirate offers her a chance to escape, Wren doesn't think twice about ...Read more
5. Wolf Of Wessex -unabridged audiobook (2020)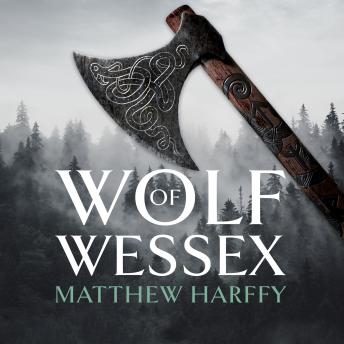 Published on 2020-03-05, Narrated by 'Barnaby Edwards', Belong to category by 'Fiction & Literature' and 'Historical Fiction', This audiobook is 10 h 43 min long, Price of this audiobook is $10.83 ,
Book SummaryAD 838. Deep in the forests of Wessex, Dunston's solitary existence is shattered when he stumbles on a mutilated corpse.

Accused of the murder, Dunston must clear his name and keep the dead man's daughter alive in the face of savage pursuers desperate to prevent a terrible secret from being revealed. Rushing through Wessex, Dunston will need to use all the skills of survival garnered from a lifetime in the wilderness. And if he has any hope of victory against the implacable enemies...Read more
6. Predator's Gold -unabridged audiobook (2017)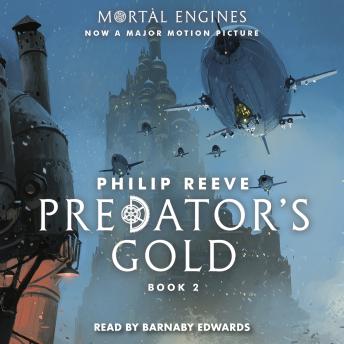 Published on 2017-10-31, Narrated by 'Barnaby Edwards', Belong to category by 'Teen, 'Action & Adventure' and 'Mystery & Thriller', This audiobook is 9 h 37 min long, Price of this audiobook is $24.99 ,
Book SummaryThe second book in the exciting Predator Cities series!

When Tom and Hester's little scrapyard aircraft is pursued by rocket-firing gunships, the ice city offers sanctuary. But it is no safe refuge. Devastated by plague and haunted by ghosts, Anchorage is heading for the Dead Continent....Read more
7. Fall Of Light -unabridged audiobook (2016)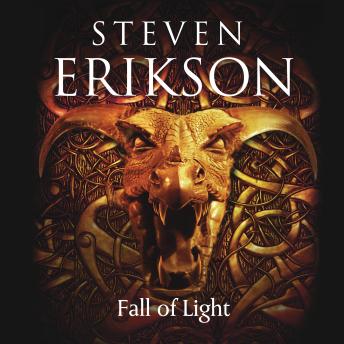 Published on 2016-04-26, Narrated by 'Barnaby Edwards', Belong to category by 'Science Fiction & Fantasy' and 'Fantasy', This audiobook is 44 h 41 min long, Price of this audiobook is $19.99 ,
Book SummaryCivil war is ravaging Kurald Galain. Urusander's Legion prepares to march on the city of Kharkanas. The rebels' only opposition lies scattered and weakened-bereft of a leader since Anomander's departure in search of his estranged brother. The remaining brother, Silchas Ruin, rules in his stead. He seeks to gather the Highborn families to him and resurrect the Hust Legion, but he is fast running out of time.



The officers and leaders of Urusander's Legion want the Consor...Read more
8. Mortal Engines -unabridged audiobook (2017)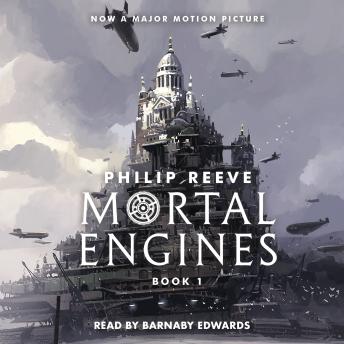 Published on 2017-10-31, Narrated by 'Barnaby Edwards', Belong to category by 'Teen, 'Action & Adventure' and 'Mystery & Thriller', This audiobook is 8 h 58 min long, Price of this audiobook is $24.99 ,
Book SummaryWelcome to the astounding world of Predator Cities!

Emerging from its hiding place in the hills, the great Traction City is chasing a terrified little town across the wastelands. Soon London will feed. In the attack, Tom Natsworthy is flung from the speeding city with a murderous scar-faced girl. They must run for their lives through the wreckage--and face a terrifying new weapon that threatens the future of the world....Read more
9. Cyberman 2.4: Extinction -unabridged audiobook (2012)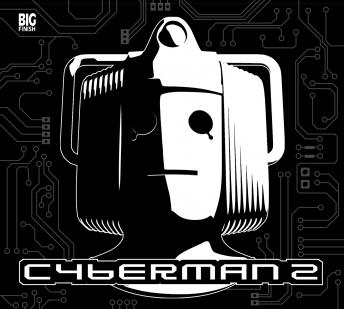 Published on 2012-01-01, Narrated by 'Hannah Smith, 'Mark Mcdonnell' and 'Barnaby Edwards', Belong to category by 'Drama' and 'Audio Theatre', This audiobook is 1 h 4 min long, Price of this audiobook is $9.58 ,
Book SummaryIn the war for the future, fear is the only weapon. The Cybermen are triumphant; nothing can stand in their way. First they will absorb mankind, and obliterate their android spawn; then they will stride the stars once more, to transform the galaxy into an empire of icy, flawless logic. The battle must end; only one race will emerge victorious....Read more
10. Cyberman 2 -unabridged audiobook (2009)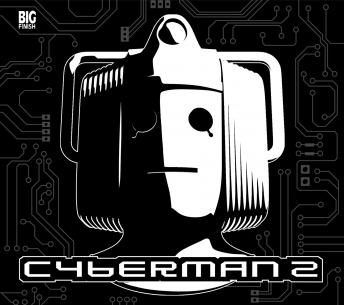 Published on 2009-12-01, Narrated by 'Hannah Smith, 'Mark Mcdonnell, 'Barnaby Edwards' and 'Jo Castleton', Belong to category by 'Science Fiction & Fantasy' and 'Science Fiction', This audiobook is 5 h 1 min long, Price of this audiobook is $41.99 ,
Book SummaryAcross the planet, the silver legions stand impassive in every city; mankind has sacrificed its freedoms for the sake of a distant conflict against its android creations, and now the price must be paid. Only one choice remains: resist or surrender......Read more
Frequently asked questions
Question:What is the Best Book of Barnaby Edwards?
Answer: 'Fall Of Light: The Second Book In The Kharkanas Trilogy' in the year 2016


Question:What is the Latest Book of Barnaby Edwards?
Answer: 'For Lord And Land: The Bernicia Chronicles Book 8' in the year 2021


Question:What is the First Book of Barnaby Edwards?
Answer: Cyberman 2' in the year 2009


Question:How many book did Barnaby Edwards Wrote?
Answer:Total 27 Book as of now


To check all narrated audiobooks of Barnaby Edwards visit this page