Top AudioBooks Narrated By William Windom
Narrator William Windom, From his debut narration with the Novel 'Sherlock Holmes' in the year 1995 to his last published Novel 'One Perfect Rose' in the year 2013 , the narrator has narrated 17 novels till now.
As well as narrating many classic works of 'Drama', William Windom also narrated 'Radio Theatre' as well as many popular 'Audio Theatre' novels such as 'Billie Bonnie: Bloodletter'(1999)
William Windom narrated Various book on Genres such as Radio Theatre' and 'Audio Theatre' .
There are so many books narrated by William Windom and written by authors like ine, 'David Friedkin, 'Various Authors, 'Evon Morris, 'Arthur Conan Doyle, 'Oliver Hailey' and 'Eliz.
If you are wondering about which is the Best novel of William Windom then, well its difficult to answer but by looking at the ratings revieved by all the books narrated by the Narrator we have complied the following list.
1. Billie Bonnie: Bloodletter -unabridged audiobook (1999)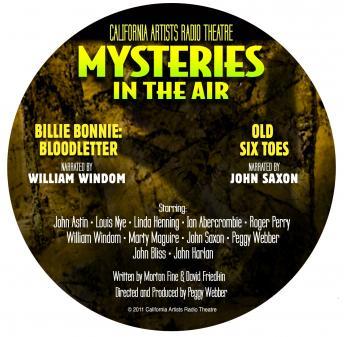 Published on
1999-01-01
, Narrated by 'William Windom, 'John Astin, 'Louis Nye, 'John Saxon, 'Peggy Webber, 'Marty Maguire, 'Linda Henning, 'Roger Perry, 'John Bliss' and 'John Harlan', Belong to category by 'Drama' and 'Radio Theatre', This audiobook is
0 h 30 min
long, Price of this audiobook is
$20
,
Book SummaryFor over thirty years, California Artists Radio Theatre has presented the best, fully-produced, professional, radio dramas, comedies, and musicals, featuring renowned Hollywood, Broadway, British & Irish actors, performing award-winning scripts adapted from modern & classic stories, books, & plays. SUMMARY: The story of the Wild West's quickest, and youngest, sharpshooter. NARRATED by WILLIAM WINDOM. STARRING: LOUIS NYE, JOHN ASTIN, JOHN SAXON, PEGGY WEBER, LINCA HENNING, ROGER PERRY, MARTY MAGU...Read more
2. Sherlock Holmes -unabridged audiobook (1995)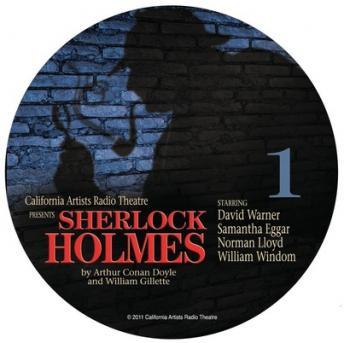 Published on 1995-01-01, Narrated by 'William Windom, 'David Warner' and 'California Artists Radio Theatre', Belong to category by 'Drama' and 'Radio Theatre', This audiobook is 1 h 29 min long, Price of this audiobook is $12 ,
Book SummaryBetween Rathbone & Bruce and Downey, Jr. & Law, CART presents Warner & Windom as mystery's most dynamic duo. With streets crawling with thugs and corrupt police officials, Holmes faces off with his most menacing nemesis, Professor Moriarty, in this tale of intrigue and suspense. Starring David Warner, William Windom, Samantha Eggar, Norman Lloyd, Parley Baer, James Lancaster, Kathleen Freeman, Sean McClory, Marty Maguire, John Bliss, Linda Henning, Jeanette Nolan, Ashby Adams, Peggy Webber, and ...Read more
3. Blackbeard's Fourteenth Wife, Why She Was No Good For Him -unabridged audiobook (1999)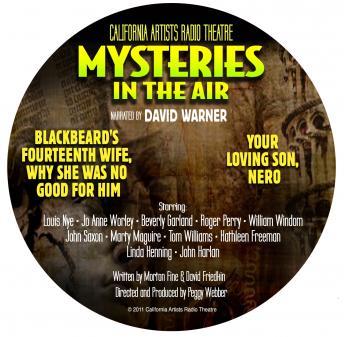 Published on 1999-01-01, Narrated by 'William Windom, 'David Warner, 'Louis Nye, 'John Saxon, 'Marty Maguire, 'Tom Williams, 'Roger Perry, 'John Harlan' and 'Jo Anne Worley', Belong to category by 'Drama' and 'Radio Theatre', This audiobook is 0 h 30 min long, Price of this audiobook is $20 ,
Book SummaryFor over thirty years, California Artists Radio Theatre has presented the best, fully-produced, professional, radio dramas, comedies, and musicals, featuring renowned Hollywood, Broadway, British & Irish actors, performing award-winning scripts adapted from modern & classic stories, books, & plays. SUMMARY: On the high seas, before there was divorce, there was murder. NARRATED by DAVID WARNER. STARRING: LOUIS NYE, JOANNE WORLEY, JOHN SAXON, TOM WILLIAMS, ROGER PERRY, WILLIAM WINDOM, MARTY MAGUI...Read more
4. Francisco Pizarro: His Heart On A Golden Knife -unabridged audiobook (1999)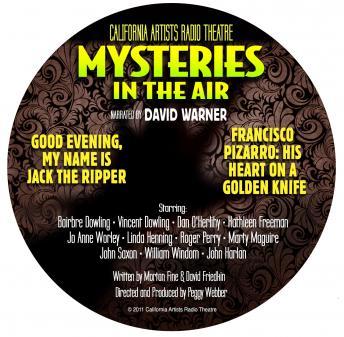 Published on 1999-01-01, Narrated by 'William Windom, 'David Warner, 'John Saxon, 'Marty Maguire, 'Dan O'herlihy, 'Roger Perry, 'John Harlan' and 'Vincent Dowling', Belong to category by 'Drama' and 'Radio Theatre', This audiobook is 0 h 30 min long, Price of this audiobook is $20 ,
Book SummaryFor over thirty years, California Artists Radio Theatre has presented the best, fully-produced, professional, radio dramas, comedies, and musicals, featuring renowned Hollywood, Broadway, British & Irish actors, performing award-winning scripts adapted from modern & classic stories, books, & plays. SUMMARY: The New World has everything a gold-crazy Spaniard could ask for, including murder. HOSTED by DAVID WARNER. STARRING: DAN O'HERLIHY, VINCENT DOWLING, ROGER PERRY, JPHN SAXON, WILLIAM WINDOM...Read more
5. The Crime Of Bathsheeba Spooner -unabridged audiobook (1999)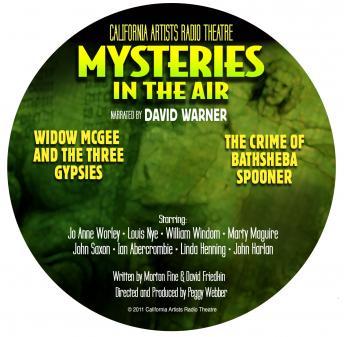 Published on 1999-01-01, Narrated by 'William Windom, 'David Warner, 'John Saxon, 'Marty Maguire, 'Linda Henning, 'Ian Abercrombie, 'John Harlan' and 'Jo Anne Worley', Belong to category by 'Drama' and 'Radio Theatre', This audiobook is 0 h 29 min long, Price of this audiobook is $20 ,
Book SummaryFor over thirty years, California Artists Radio Theatre has presented the best, fully-produced, professional, radio dramas, comedies, and musicals, featuring renowned Hollywood, Broadway, British & Irish actors, performing award-winning scripts adapted from modern & classic stories, books, & plays. SUMMARY: The tale of the first woman tried for murder in the United States...and what she did for love. HOSTED by DAVID WARNER. STARRING: JOANNE WORLEY, WILLIAM WINDOM, LINDA HENNING, JOHN SAXON, IAN ...Read more
6. Old Six Toes -unabridged audiobook (1999)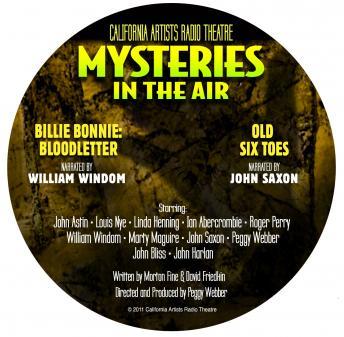 Published on 1999-01-01, Narrated by 'William Windom, 'Louis Nye, 'John Saxon, 'Marty Maguire, 'Linda Henning, 'Ian Abercrombie' and 'Roger Perry', Belong to category by 'Drama' and 'Radio Theatre', This audiobook is 0 h 29 min long, Price of this audiobook is $20 ,
Book SummaryFor over thirty years, California Artists Radio Theatre has presented the best, fully-produced, professional, radio dramas, comedies, and musicals, featuring renowned Hollywood, Broadway, British & Irish actors, performing award-winning scripts adapted from modern & classic stories, books, & plays. SUMMARY: Jealousy is a terrible thing, especially when armed with a sledgehammer, deep in the heart of India. HOSTED by JOHN SAXON. STARRING: LOUIS NYE, IAN ABERCROMBE, WILLIAM WINDOM, ROGER PERRY, LI...Read more
7. The Bloody, Bloody Banks Of Fall River -unabridged audiobook (1999)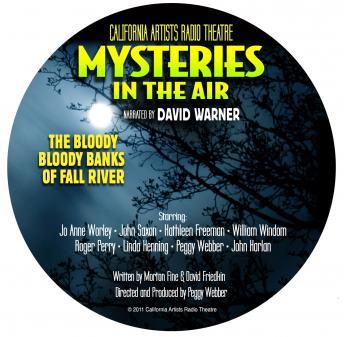 Published on 1999-01-01, Narrated by 'William Windom, 'David Warner, 'John Saxon, 'Peggy Webber, 'Linda Henning, 'Kathleen Freeman, 'Roger Perry, 'John Harlan' and 'Jo Anne Worley', Belong to category by 'Drama' and 'Radio Theatre', This audiobook is 0 h 29 min long, Price of this audiobook is $20 ,
Book SummaryFor over thirty years, California Artists Radio Theatre has presented the best, fully-produced, professional, radio dramas, comedies, and musicals, featuring renowned Hollywood, Broadway, British & Irish actors, performing award-winning scripts adapted from modern & classic stories, books, & plays. SUMMARY: While Lizzy Borden was grinding her mother's axe, her killer waited with his own. HOSTED by DAVID WARNER. STARRING: JOANNE WORLEY, JOHN SAXON, ROGER PERRY, PEGGY WEBBER, KATHLEEN FREEMAN, WIL...Read more
8. If A Body Need A Body, Call Burke And Hare -unabridged audiobook (1999)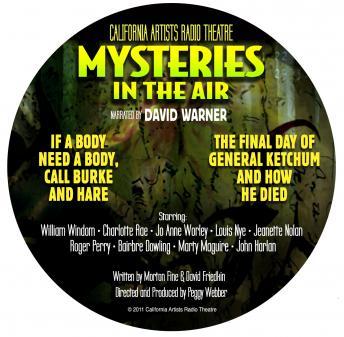 Published on 1999-01-01, Narrated by 'William Windom, 'David Warner, 'Louis Nye, 'Bairbre Dowling, 'Jeanette Nolan, 'Marty Maguire, 'Roger Perry' and 'John Harlan', Belong to category by 'Drama' and 'Audio Theatre', This audiobook is 0 h 28 min long, Price of this audiobook is $20 ,
Book SummaryFor over thirty years, California Artists Radio Theatre has presented the best, fully-produced, professional, radio dramas, comedies, and musicals, featuring renowned Hollywood, Broadway, British & Irish actors, performing award-winning scripts adapted from modern & classic stories, books, & plays. SUMMARY: When times are tough, turn to the world's oldest profession: murder. HOSTED by DAVID WARNER. STARRING: WILLIAM WINDOM, JEANETTE NOLAN, BAIBRE DOWLING; LOUIS NYE, ROGER PERRY, MARTY MAGUIRE an...Read more
9. The Final Day Of General Ketchum And How He Died -unabridged audiobook (1999)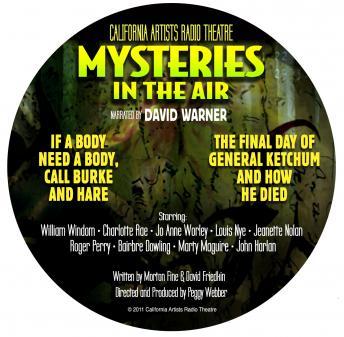 Published on 1999-01-01, Narrated by 'Charlotte Rae, 'William Windom, 'David Warner, 'Louis Nye, 'Marty Maguire, 'Roger Perry, 'John Harlan' and 'Jo Anne Worley', Belong to category by 'Drama' and 'Radio Theatre', This audiobook is 0 h 27 min long, Price of this audiobook is $20 ,
Book SummaryFor over thirty years, California Artists Radio Theatre has presented the best, fully-produced, professional, radio dramas, comedies, and musicals, featuring renowned Hollywood, Broadway, British & Irish actors, performing award-winning scripts adapted from modern & classic stories, books, & plays. SUMMARY: Mint juleps are delicious on a hot summer's day...but they have quite a deadly kick. HOSTED by DAVID WARNER. STARRING: CHARLOTTE RAE, JOANNE WORLEY, ROGER PERRY, WILLIAM WINDOM, LOUIS NYE, MA...Read more
10. The Seven-layer Arsenic Cake Of Madame Lefarge -unabridged audiobook (1999)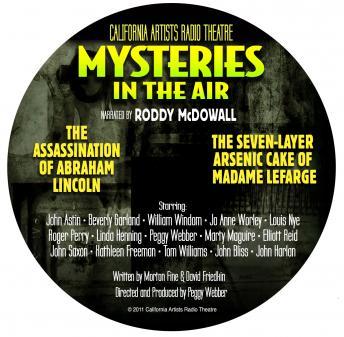 Published on 1999-01-01, Narrated by 'William Windom, 'Louis Nye, 'Beverly Garland, 'Elliott Reid, 'Roddy Mcdowall, 'Roger Perry, 'John Harlan' and 'Joanne Worley', Belong to category by 'Drama' and 'Radio Theatre', This audiobook is 0 h 30 min long, Price of this audiobook is $20 ,
Book SummaryFor over thirty years, California Artists Radio Theatre has presented the best, fully-produced, professional, radio dramas, comedies, and musicals, featuring renowned Hollywood, Broadway, British & Irish actors, performing award-winning scripts adapted from modern & classic stories, books, & plays. SUMMARY: An authentic French cake calls for eggs, sugar, flour, and of course, poison. HOSTED by RODDY McDOWALL and STARRING: JO ANNE WORLEY, ROGER PERRY, WILLIAM WINDOM, LOUIS NYE, BEVERLY GARLAND, E...Read more
Frequently asked questions
Question:What is the Best Book of William Windom?
Answer: 'Billie Bonnie: Bloodletter' in the year 1999


Question:What is the Latest Book of William Windom?
Answer: 'One Perfect Rose' in the year 2013


Question:What is the First Book of William Windom?
Answer: Sherlock Holmes' in the year 1995


Question:How many book did William Windom Wrote?
Answer:Total 17 Book as of now


To check all narrated audiobooks of William Windom visit this page